If you are using Google assistant, Siri, amazon alexa for getting answers. if yes then you are among 52% people who are using voice search now and that stats are going up.
What is voice search SEO?
Voice search optimization is the process of optimizing your page's content to appear on search results. Users can search any question by voice and the response from the web will be read out loud by voice search devices.
Why is Voice Search important? Why invest in it?
Before going into the details you need to know why search engines are created to provide information to users easily.
Initially the voice search was a concept and now this is the billion dollars industry. Now every big giant industry to a local small industry or website wants to optimize their site for voice seo. Because they know the importance of the voice which is constantly increasing and getting more and more dominating. According to recent research 52% young adults will use this option till 2021.
It's easy to search
Answer in 2-3 lines, no need to read 1000 words article
No need to write on browsers
No need to open apps
Just say to your phone Hey Google your phone will respond
More traffic, More revenue
If you do not optimize your website for the feature snippets or voice you may lose a lot of traffic from your desired city and specially local city which you are targeting.
How does voice search work?
When a user asks any question in the form of voice, that voice is analyzed by the Artificial intelligence (NLP) to detect what the user wants then the result is obtained from the online websites and read out loud by voice devices.
The working process is similar to text queries but the voice search is more conversational and long keywords (questions).

If you want a question by tying you write a short question like "Amazon owner?" Most of the people write when they are typing but when you are using your voice you probably ask this question in this way "who is the owner of Amazon?".
This is why the voice search queries are more conversation and question type.
How to optimize for voice search?
If you optimize content for your user it means you have to optimize for voice search. It means if you have solved the problem of the user you have done your work. Then some external factors improve to get a high ranking. If you implement the following voice search seo tips/ best practices, there will be a great chance you will get the high results.
1) Understand what users want?
First of all you need to understand the intent (goal) of the user why he/she came here. Providing the answer to the user question at the start is a great option.
For example in this article you came here to know voice search SEO tips. You need to show all points in bullets which cover the whole article.

Do not wrote hundreds of lines in the old way.

If you adopt the new way it will help to improve your ranking. If you wrote content to cheat search engines. It means you are wasting your resources and time. Nowadays search engines use Artificial intelligence to understand the content. On google you see when you ask a question by voice you will get a box where the answer is written and read out loudly by your device.


In the given above picture you have seen users want to see the difference between two products. The answer is concise and to the point. that is the real example of answer to the point.
2) Make your content scannable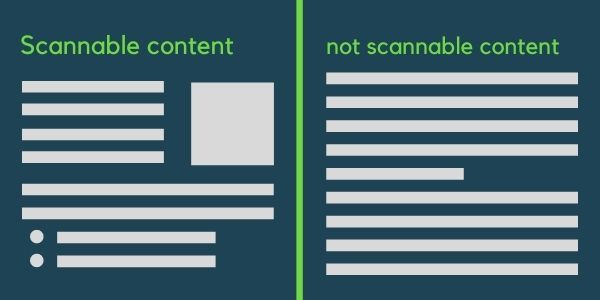 When a user comes on your website he/she sees the content of your website.

They scanned it first then started reading.

If your website content is not scannable and has large paragraphs it has very poor effect in the eyes of the user. Due to this simple reason most of the people leave your page and go on the other webpage to get required information. That is the reason we keep this point at 2nd position.
How can you make your content more scannable?
Use of short sentences
Use of white spaces
Use of bullets
Use of proper headings
Use of infographics
3) Provide Direct Answer
You need to provide the answer of the user's question in such a way that he/she can easily understand.

Users want what are the best heated gloves for winter. You need to provide a list of top products instead of what is heating gloves or not story about the heated gloves. Because users know what heating gloves are. Some try to cover more and more content to rank their content. It's not good for them.

Every search engine goal is to provide best information against the user question (query).

Above example show the direct answer of the question What is SEO?
4) Use Natural Language in content
Most of the professionals talk about using simple sentences in your writing post/article.

Some people can understand technical terms easily but many people took time to understand their meaning. This is because every person has its own mind and understands the process.

That is the reason it is advised to use natural language in your content that a 9th graduate student can read and understand your content easily. Try to use active sentence and write as your are talking with other person. Use some real life example to show how its look like…
5) Use google trends
Google trends is the best free tool for making your content according to the user's needs and area.

It will help you decide which topic is trending in your niche/service. What people are searching? In local service or industry websites it is great practice to use this tool for voice strategy.
I will explain it in a minute.

In all countries people have different geographic, languages, culture etc. In voice search mostly the content is location specific. But if you are asking some general question which has the one answer it will remain in all places the same.
Like who is the CEO of amazon? Its answer will be the same.
On a service website you need to first target your area then focus on other cities/countries. Search engine shows the same country website first for service. It will also help with running ads for our targeted service.
How?
Your website is selling winter products. You do not need to target the whole country; you can target some specific areas who live in cold areas and search about products of your category. If you target the people of hot cities it's a total waste of your resources.
6) Google my business listing
Google my business listing plays a major role in the voice seo because most of the time people use voice search queries like "_ _ near me".

You need to provide maximum information.

For example hostels near me then google will show the result of their current locations near hostels.

If you have not signed up on this you need to go first and sign up for better performance. You need to set Google my business in the right way so people are not selecting the right category of their service. If you're providing service of food and you have selected a hostel category it will not provide good results. You need to provide all the information about your business.
If you have already signed up you need to prove the maximum information about your service time, service charges, location, and all basic needs which people know before getting in touch with you.
7) Use SEO Tools for voice optimization
There are multiple tools which help you to find the right long keywords which people are searching in your business. These tools will help you to save your much time in the searching of a lot of keywords in bulk.
Free Tools
Answer the Public
Also asked
Google Trends
Ubersuggest
Paid Tools
Ahrefs
Moz Pro
SEMrush
Majestic
8) Change way of Research target long phrases
Most of the content creators use the old way of Keyword Research for their content. But now the time has changed and people's searching process has changed. Now the short term has the vast people. But if you want to rank high you need to narrow down your search term and get more sales and traffic for your website.
People select the keyword on the basic of
High Search volume
Seasonal trends
CPC
But they are neglecting the long term keywords which are more beneficial and have the target people. If you want to rank high you do not need the search volume of 50 against 4000 search volume. Most of the people want to target 4k search volume keyword but not 50 search volume keyword but hope you know what is the potential of the 50 search volume keyword value. this keyword gives you the targeted traffic which improves your ranking, sales, revenue.
9) follow seo best practice
Speed optimization
Use of CDN
Good quality backlinks
Conclusion: Future of Voice search SEO
Voice search SEO is the future of SEO, most of the adults using voice features to get the answer of their question. This industry is increasing very rapidly and becoming billion dollar's industry.
Now a lot of websites and industries are trying to improve their content quality according to the recent seo tactics to improve their ranking.
It's also a good weapon to beat your competitor ranking. All things are possible due to the latest technologies.
We will suggest you to follow these seo strategies to improve website ranking.